Lower Division News
Middle Division News
News
Parents' Club
Primary Division News
#SJETogether
The SJE Parents' Club in Action: What We Accomplished This Year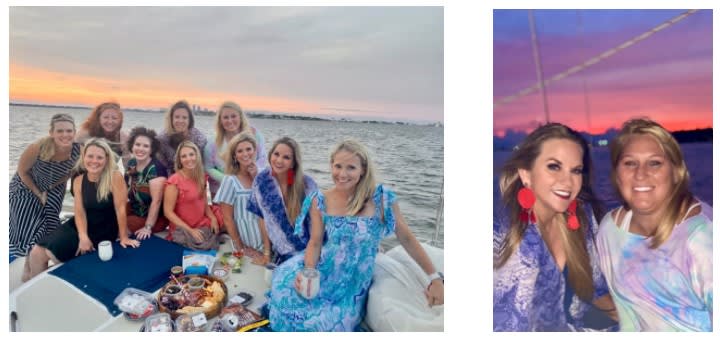 To our SJE Family,
The Parents' Club Board sailed away last Thursday evening as they celebrated a monumental school year. The uncharted waters of the 2020-2021 school year presented a sink or swim situation. With our President, Nicole Hubbard, at the helm, the Board navigated and developed a new set of guidelines and activities guaranteed to keep the spirit of SJE intact.
Knowing that our social interactions were limited due to COVID, we maintained most of the traditional SJE celebrations by keeping parties and events to specific classrooms. As the year progressed and mandates were lifted, we made events more grade specific and were able to invite parents onto campus to help with the fun! While there were certain events that had to be postponed due to Covid, the Parents' Club is very proud of ALL we were able to accomplish despite a challenging, unprecedented year.
Our incoming Parents' Club President, Jenny Spencer, literally manned the sails on Thursday, quite apropos as she takes over the reins to lead our Parents' Club Board into the new and exciting school year. As the 2020-2021 school year sails off into the sunset, we look forward to building on the success of this past year.
Have a Great Summer!
(or "H.A.G.S.," as the kids would say)
The SJE Parents' Club Board of Directors
---

---
YEAR ROUND FUN:
PRIMARY DIVISION
Halloween party including trick or treating with parents, pumpkin decorating, slime creation, and Halloween crafts
Holiday party with holiday crafts with parents and a visit from Santa
Valentine's Day Party where the Posie Flower truck came to campus, homeroom moms decorated each class room and there was a Valentine's Day treat
Field Day with FIT KIDS Tampa on the playground
Parent readers in classrooms after Spring Break
Gasparilla pirate invasion (ARGH!)
Circus Day end of the year party with an obstacle course, carnival games, cotton candy and shaved ice treats
LOWER DIVISION
Halloween party with a Haunted Maze, DJ, trick or treating, Kona Ice, and a costume contest
Holiday party with cookie decorating, crafts, hot chocolate and a visit from Santa
Valentine's Day donut truck
Field Day at the Middle Division campus
Gasparilla pirate invasion (ARGH!)
Splash Into Summer end of year party with an ice cream bar, (thank you Dairy Joy and the Mueller Family) games on the deck, cotton candy, DJ Shawn, and a dunk tank for Mr. Salzer!!!!
MIDDLE DIVISION
Halloween Laser Tag, ping pong, pumpkin decorating, and treat bags to take home
Thanksgiving Hyppo Pops
Holiday Party with hot chocolate, DJ Shawn O'Brien, ornament decorating and candy canes
Valentine's Day donut truck and graffiti wall
Field Day at the Middle Division Campus
Gasparilla pirate invasion (ARGH!)
Cinco De Mayo chips and salsa celebration
End of the Year celebration at Curtis Hixon Park with volleyball, sports, ice cream sandwiches, and Chick-fil-A.
IT'S ALL ABOUT CHAMPA-BAY:
Super Bowl Tailgate party at the Lower and Middle divisions
The Lombardi Trophy visited the Primary and Lower divisions
The Stanley Cup visited the Lower and Middle divisions
WE LOVE OUR GRADS:
Halloween Tombstones
Catered lunches from Chick-fil-A
Pizza Parties
Dress Down Fridays
Movie Outing to Cinebistro
A Day at Busch Gardens
Special Graduation Gifts
CELEBRATING OUR TEACHERS:
Mini Bundt Cakes at Halloween
Video Hugs
Gift cards for the holiday season
Birthday Lunches
Teacher Appreciation Week filled with catered lunches and surprises all week long
Class Gifts for our Teachers
SUPPORTING OUR FAMILIES AND VOLUNTEERS:
Parent Enrichment Programming
Operation Eagle Egg
Welcome Gifts for New Families
Mom's Night Out
Homeroom Parent Happy Hours
Parents' Club Volunteer End of Year Happy Hour

News
Parents' Club
#SJETogether